20 Jun

Review of Thames Valley Expo at Ascot Racecourse: 22nd May 2019

We've written this blog article mainly for our local readers who may have attended this annual Berkshire SME event last month, as well as anyone who has not attended a similar event, but is interested in what they might achieve by exhibiting, or by simply attending next year. The website for the expo is: http://www.greatbritishexpos.co.uk/thames-valley-expo/
Reasons to attend Thames Valley Expo: An Exhibitor's View:
The Free Pre-Expo Lunch Event
Held at the lovely Beryestede Hotel in Sunninghill and very well attended, we appreciated this opportunity to network and to gain visibility before the event itself.
The Practicalities: Venue, Parking, and Refreshments:
This was the second year the Expo had been held at the prestigious Ascot Racecourse, following a change from Windsor Racecourse in previous years. We have been exhibiting for a few years now and we find the simple one-floor set-up at Ascot easier and better for meeting visitors. Set-up is allowed the evening beforehand or on the morning of the event. Our stand was well located, but really at this expo, there are no very poorly located stands. Exhibitors benefit from a free lunch for two (we loved the artichoke and potato salad!), but there was a good selection of food and drink available for purchase too.  Parking was free, just across the road from the Racecourse.
   Publicising your Own Goods and Services
As always, we enjoyed spreading the word about the wide range of office and virtual office services we can offer. Because we offer so many services, we always have a lot of talk about. Not everyone understands how virtual office works (or how usefully brilliant an idea it is!), so our newly designed banners were a useful aid to spell out the long list of virtual services to visitors. We had particular interest this time in our meeting room hire, and plenty of leads to follow up on.
Visibility and Building Brand Awareness
We talked to a huge number of people and handed out lots of our merchandise. We definitely got our logo and company image noticed. Without sounding too immodest, we had an awful lot of compliments on our colorful modern brochures and our uniquely stylish transparent business cards.
Collecting Business Cards and Building a Database of Contacts
We always design a system to ensure this happens! We have followed up on the interest after the expo via those business cards and notes, and can confirm that it was highly successful!
Affordability
This is not an expensive expo, so it's affordable for almost all SMEs; exhibiting fees can be lower than £500 for the smaller stands. It's also completely free to attend, which encourages strong attendance numbers.
Finding Potential Suppliers and Partners, and Sources of Funding
A wide range of exhibitors attended from all over the South-East. This event attracts businesses from further away- not just the immediate Berkshire surroundings- so don't be put off next year if you are based in London, Milton Keynes or Bristol. We met businesses from all of those places.
We met some old friends we've worked with on printing and merchandise, and we made useful connections for the future. There were so many businesses at the expo with common interests and it is always a great event to make those connections. For us, this can include agencies who'd like to list us as a meeting room venue.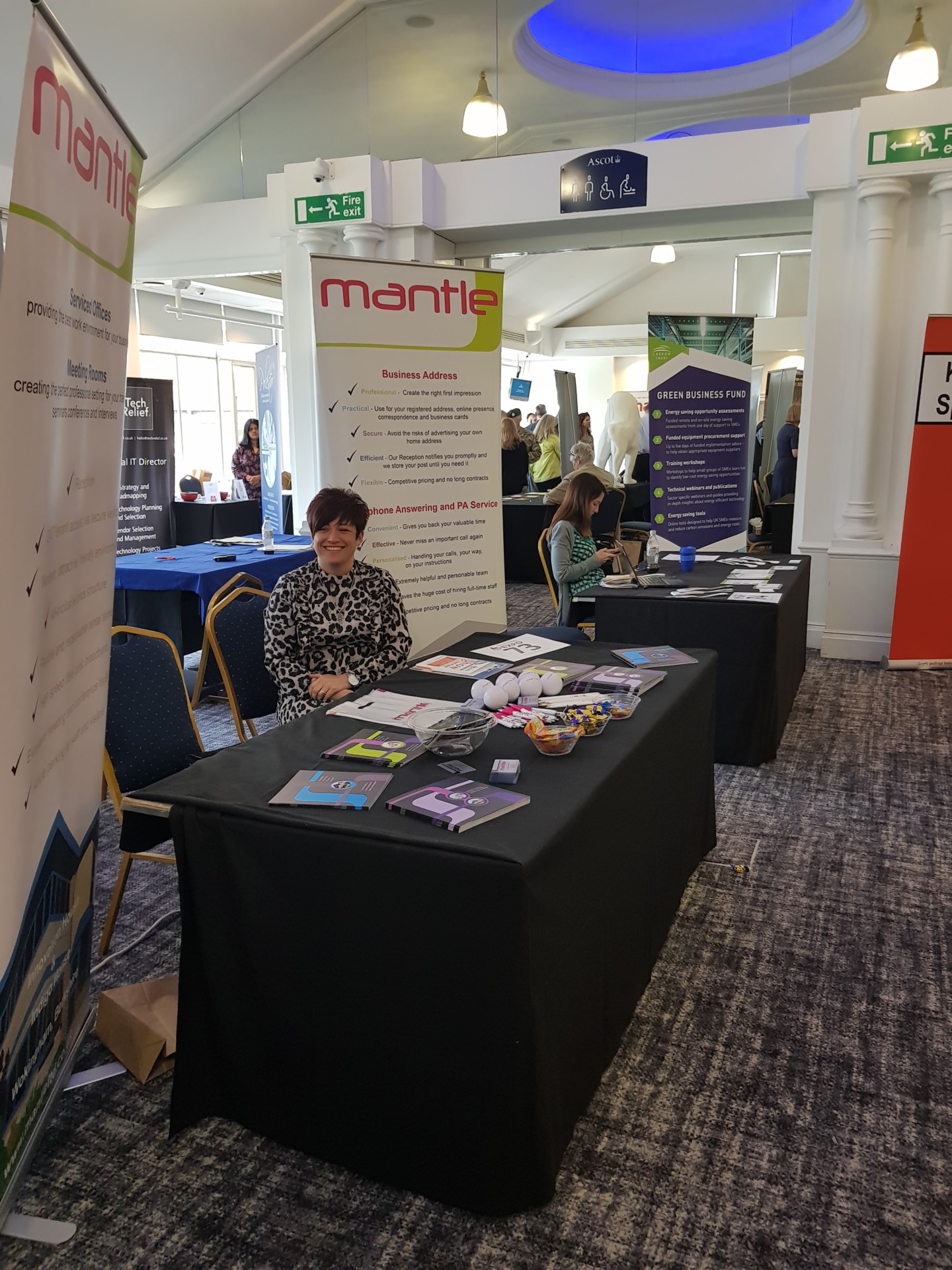 Building Networking Skills
Networking opportunities are always excellent at these expos, with speed networking a regular fixture at every event. Despite having two staff on our stand (it's really a minimum to do the expo justice!), we were too busy this time to attend any speed networking events. But next time….
 Free Business Education and Inspiration
We were close enough to the speakers to hear quite a lot of the interesting content, despite being kept so busy with the interest at our stand. Thames Valley Expo has always been about more than just the exhibitors. Speakers this time included British Olympian and record breaker Derek Raymond; entrepreneur, author, and business speaker Zoe Bennett; young advertising entrepreneur Ed Hollands from BBC's Dragon's Den. Workshops and 'masterclasses' dealt with relevant SME topics such as CRM software, LinkedIn, GDPR, and new customer acquisition.
Researching the Benefits of Being a Stand-holder Yourself
We have ticked this box already, but for those unsure, attending as a visitor helps you to work out whether (and how!) to exhibit.
Supporting Charities
Thames Valley Expo always showcases one charity and this year it was Debra, an excellent local charity dedicated to helping with skin disorders, via fun efforts such as the Boss Jail Break Challenge.
Collecting Fun and Edible items, and Sourcing your own Merchandising Ideas
An Expo will always bring out an interesting set of promotional items, and we've noticed at recent expos a trend away from sweets, cakes and chocolates, and towards more innovative ideas and useful items like stationery. Plenty of exhibitors at this expo were actually offering expo-related services and merchandise for next time, including regular exhibitor Print Direct Solutions, so they were a great source of inspiration. Our favourite item at this expo was the standout 'Radisson Blu' dark blue nail varnish!
For those who did not meet us at the recent expo, we are Mantle and we run serviced offices and offer meeting rooms in Wokingham. As we also specialise in virtual office services, we help our clients to prepare marketing materials when they are busy in the run-up to an event like this, or we handle their calls while they are exhibiting with our reliable telephone answering service.
If we can help you, contact us on 0118 9778599 or email us news@mantleltd.com
We love a bit of social media (and to share photos of our business centres), so we are also on: Instagram @Mantleoffices LinkedIn @MantleLtd   Facebook  @MassInformationSystems, and Twitter @mantleltd